Karen Vintges teaches Political and Social Philosophy at the Department of Philosophy of the University of Amsterdam. She has published Philosophy as Passion. The Thinking of Simone de Beauvoir (Bloomington: Indiana University Press, 1996 [originally in Dutch, 1992]); Feminism and the Final Foucault, ed. by D. Taylor & K.Vintges (Illinois University Press, 2004), A New Dawn for the Second Sex (Amsterdam University Press 2017). and several other books.
She was project leader of the NWO program 'Women and Islam: New Perspectives.'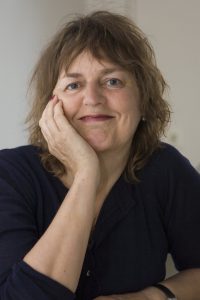 open access A New Dawn for the Second Sex:
http://www.oapen.org/search?keyword=9789089646026
======================
https://link.springer.com/chapter/10.1007/978-3-030-18118-5_11
Vintges 2019 – in: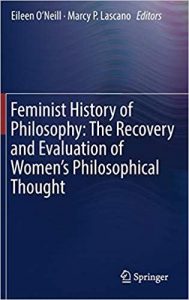 ==============================
A constitutive assembly of the Foucault Circle NL/BE will be held at the University Theatre – Nieuwe Doelenstraat 16 – of the University of Amsterdam on Friday 25 January from 13.30 -17.00.
13.30  Keynote lecture Philippe Sabot
Publishing and Studying Foucault: The State of the Art
Philippe Sabot is head of the Michel Foucault Centre in Paris which is responsible for the posthumous publication of Foucault's work. Sabot was head of the research group Savoir, Textes, Langage until 2017 and currently is dean of research at the University of Lille.
15.30- 16.30 Constitutive session of the Dutch-Belgian Foucault Circle
Drinks afterwards /  offered by L 'Association pour le Centre Michel Foucault –Paris
Recent contributions / recente bijdragen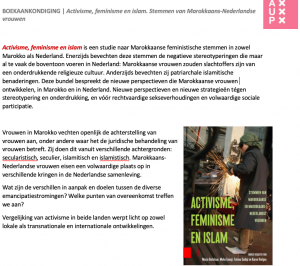 FORUM PENSER AVEC SIMONE DE BEAUVOIR AUJOURD'HUI
https://penseravecsdb.sciencesconf.org/program/graphic/date/2018-10-11
11-13 OCTOBRE 2018
Université de Paris-Diderot
Jeudi 11 octobre de 13:00 à 17 : 30 deux Sessions parallèles
SESSION I
14:45-16:15 Panel 2 Diverse Experiences
Chair: Nathalie Nya, Carroll University, USA,
Sarah M. Gorman, Vanderbilt University, USA, The Coming of Age and Disability Studies
Alexander Antonopoulos, Concordia University, Canada, Two New Conceptions of "Experience": Problematizations from Beauvoir's Political Writings and Philosophical Writings
Karen Vintges, University of Amsterdam, Netherlands, Feminism Versus Neoliberalism: Women's Freedom Practices in World Perspective
https://www.filosofie.nl/nl/artikel/hitlist/251/1/index.html [voorpublicatie]
https://www.trouw.nl/religie-en-filosofie/wat-zijn-de-verworvenheden-van-het-revolutiejaar-1968-en-wat-zijn-de-lessen-~a7ff4de0/
https://www.folia.nl/opinie/119698/studenten-met-problemen-help-je-bij-de-huisarts-niet-met-e-health
[Voor een indruk van de achtergrond van onze kritische vragen, zie bv. het boek Identiteit (2013) van psycholoog en psychoanalyticus prof. Paul Verhaeghe / Universiteit Gent]
Voor de reactie van prof. Reinout Wiers / UvA zie
https://www.folia.nl/opinie/119793/voer-het-gesprek-over-de-problemen-van-studenten-en-promovendi-zorgvuldig
****
https://medium.com/@dodedenkers/simone-de-beauvoir-on-metoo-c2e210bd3e82
Radio KLARA d.d 12-02 -2018 en 15-02-2018:
https://itunes.apple.com/be/podcast/podcast-bar-de-beauvoir/id1344726118?l=nl&mt=2
========================================================================
iinterview door Ischa Meijer  [uit 1992] – vanaf minuut 42
https://www.vpro.nl/speel~POMS_VPRO_212430~afl-43-margreet-de-boer-herman-kuiphof-karin-vintges-bob-van-amerongen-een-dik-uur-ischa~.html
=================================================
open access A New Dawn for the Second Sex:
http://www.oapen.org/search?keyword=9789089646026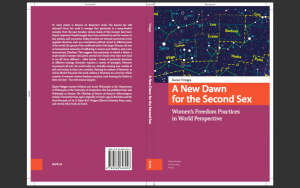 A New Dawn for the Second Sex, Amsterdam University Press,  2017, 196 pp.
To what extent is Simone de Beauvoir's study The Second Sex still relevant? From her work it emerges that patriarchy is a many-headed monster. Over the past decades, various heads of this monster have been slayed: important breakthroughs have been achieved by and for women in law, politics, and economics. Today, however, we witness movements in the opposite direction, such as a masculinist political revival in different parts of the world, the spread of the neoliberal myth of the Super Woman, the rise of transnational networks of trafficking in women and children, and a new international 'Jihadism'. This suggests that patriarchy is indeed a Hydra: a multi-headed monster that grows several new heads every time one head is cut off. Since different – often hybrid – heads of patriarchy dominate in different settings, feminism requires a variety of strategies. Women's movements all over the world today are critically creating new models of self and society in their own contexts. Drawing on notions of Beauvoir, as well as Michel Foucault, this book outlines a 'feminism in a new key' which consists of women's various freedom practices, each hunting the Hydra in their own key – but with mutual support.
REVIEWS:
https://www.nrc.nl/nieuws/2017/02/16/nog-altijd-moeder-maagd-of-hoer-6734739-a1546401
http://hypatiareviews.org/reviews/content/331
====================================================================
https://www.filosofie.nl/nl/artikel/48506/dood-aan-de-mythe-van-de-supervrouw.html
http://dorudi.nl/multiple-feminisms/
Babel februari 2017: De Terugblik / Interview met FGw-docent Karen Vintges
Intellectuele uitwisseling in het café
[Tekst] Gwyneth Sleutel  / [Beeld] Joy van Wooning
http://www.groene.nl/artikel/de-vijf-beste-romans-van-simone-de-beauvoir-volgens-karen-vintges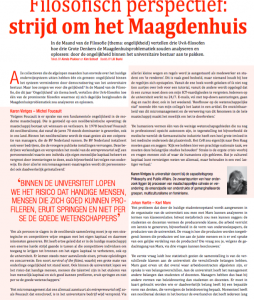 In: Babel -april 2015